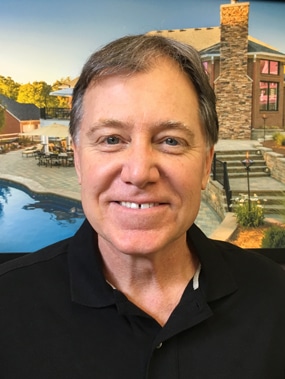 "What a pleasant and creative guy to work with! He took our basic ideas and "ran" with them. He asked questions constantly to insure he was meeting our needs and making many significant recommendations for us to consider as the design and project progressed. He did, indeed, put us, the customer, as his primary focus. (It also didn't hurt that he is a huge Buckeye fan!) His designs for our master bedroom and sunroom were particularly outstanding."
–Jonathan & Kathie, Blue Ash, Ohio
Bob Voigt
Designer
My Role at Neal's
I design projects for our clients ranging from lower level renovations to large additions.
Favorite Project
One of my favorite projects was the Wine Collector's Dream in Mason. This lower level renovation showcases the client's extensive wine collection.
Family/Hobbies/Interests
Married to my wife Lynn for 23 years and we have three children: Ben, Sara and Zach. For many years I have coached all levels of soccer, basketball and volleyball. Vice President of Oak Hills SAY Soccer Association, President of Oak Hills Volleyball Association. Our Lady of Visitation Parish member and summer bible school teacher. Sigma Alpha Epsilon Fraternity Alum.
Education/Awards
University of Cincinnati Double Major: Degrees in both six-year Architecture program and a Bachelors of Fine Arts (Area of Concentration: Sculpture)

Served as Head of Interior Design Department at the College of Mount Saint Joseph for 12 years.

Chrysallis National Winner-Finished Basement-2008

NARI COTY National Winner- Residential Exterior Specialty Category-2008

NARI COTY Regional-Residential Exterior Category-2009

NARI COTY Regional-Residential Exterior Specialty Category-2013,2008

NARI COTY Regional-Residential Interior Category-2008, 2006

NARI COTY Local Winner-Exterior Specialty-2012,2009,2008

NARI COTY Local Winner-Entire House-2008

NARI COTY Local Winner-Exterior Specialty-2013,2012
Save