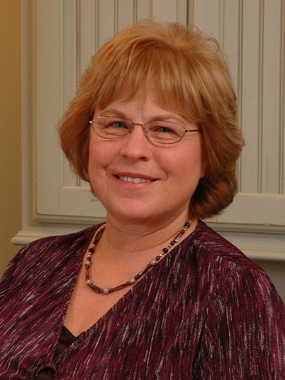 "Connie helped tremendously in the design and selection process and was very candid (and patient!) as she took me through that process. I was very pleased with it all and just wanted to say Thanks!!"
–Patti & Tom, West Chester, Ohio
Connie Hampton
Designer
My Role at Neal's
I have had the pleasure of designing kitchens and baths for Neal's clients for the past 12 years. I have been in this industry for over 30 years and I like to tackle difficult projects. It's common for some of the older homes in the area to have the most challenging circumstances, such as, room shapes, multiple openings, etc. Some of the rooms are too small and need to be enlarged, such as older bathrooms, which used to be merely functional rooms. Master Baths are now thought of as an extension of the bedroom with additional space to relax and unwind in a spa-like atmosphere. Kitchens used to be small and nobody expected to entertain in such a room. They were designed strictly for preparing meals. Guests were escorted into living rooms for more formal entertaining.
Now, one will find everyone in the kitchen during a party! Enlarging kitchens or at least, making them more multi-functioning, happens to be a very popular remodeling project in any home. Adding larger islands and giving the kitchen more counter space, while making it a showplace for friends and neighbors is a definite goal for our clients. Kitchens are no longer a place for just the family!
Favorite Project
I have had so many favorite projects in the past that trying to choose one particular job would be difficult. In general, I like working closely with the client who has a vision for their project. I enjoy making their ideas a reality. It's very rewarding to achieve the homeowner's dream and to make the project a personal accomplishment for them.
Family/Hobbies/Interests
My husband Mike and I have one daughter, Laurie, who was recently married.
Mike and I are both members of the PGR. The main mission of the Patriot Guard, (PGR), is to attend the funeral services of fallen American soldiers as invited guests of the family. Their motto is " standing for those who stood for US."
I am an avid Zumba student and enjoy attending classes in the evenings.
I love hiking and photography. I also like being creative by making beaded jewelry and glass projects.
Education/Awards
Certified Kitchen Designer 1991

NKBA-National Kitchen & Bath Association-Officer/Member

Chrysallis Award-Exterior Specialty-2009

NKBA Kitchen Design Award (Southern Ohio) – Small Kitchen First Place Winner-2012,2011

NKBA Kitchen Design Award (Southern Ohio) – Large Kitchen Second Place Winner-2009

National NARI COTY-Whole House-2003

Regional NARI COTY-Kitchen Category-2008,2006,2004

Regional NARI COTY-Entire House-2003

Regional NARI COTY-Residential Interior-2007

Local NARI COTY-Residential Kitchen Category-2011,2010,2008,2007,2006,2004

Local NARI COTY-Residential Interior Category-2009

Local NARI COTY-Residential Bath Category-2013,2011,2009

Local NARI COTY-Residential Entire House-2003