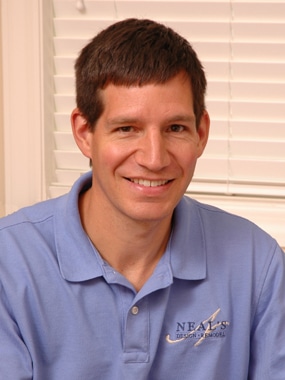 "I was greeted in your showroom by Eric Hertzfeld. I worked with Eric to come up with a plan for remodeling the porch into a functional setting. We now can enjoy the outside by bringing it inside."
–Bob & Mary, West Chester, Ohio
Eric Hertzfeld
Project Consultant
My Role at Neal's
As a Project Consultant, I am able to use my engineering skills and apply them to assisting clients with projects. Helping you understand our remodeling process and the estimating details necessary for a successful project is something I enjoy. My experience includes project management in the machine design industry which carries over well into the residential construction field.
Favorite Project
The Family Room Fireplace Project in Loveland is one of my favorite projects. This family room project designed with Cyndi required structural work & craftsmanship for a detailed client. Completed on time and on budget with no surprises.
Family/Hobbies/Interests
I live in Green Township with my wife, Janis, and two daughters, Grace & Anna. I enjoy participating in hockey, soccer, and other sports. We are members of St. Ignatius Church.
Education/Awards
Anthony Wayne High School Class of 1988

University of Cincinnati, 1993 BS Mechanical Engineering

NARI Certified Remodeler

Certified Green Professional (CGP)