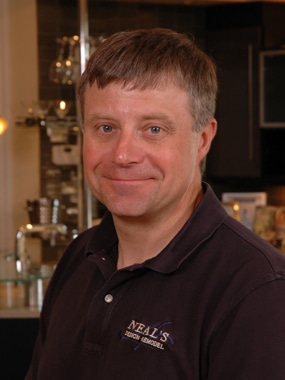 "We were exceptionally pleased with the results. The work and the materials were top quality. Each step of the process was handled professionally. the fact that we could call anytime with questions of Frank, gave us the confidence that we had made the right decision. Any questions we did have were answered promptly. Thanks again for a wonderful experience."
–Thelma & Walt, Montgomery, Ohio
Frank Kuhlmeier
Project Consultant
My Role at Neal's
As a Project Consultant, I can listen to my clients and provide all the information they need to make a wise remodeling decision. My earliest memories include filling up a dump truck with gravel and running it along footers with my Dad. Life has come full circle and here I am working in the field I enjoy so much. I am responsible for taking all the pictures of our work when completed, which means I get to see all of our great projects up close.
Favorite Project
The Addition Project in Mt. Washington. When the homeowner wanted to move her father who had Alzheimers in with her, we built a space with privacy for him. On my visit when the project was finished, I asked him what he thought of the space he gave me a big smile. That was very rewarding for me and I know homeowner loves having her Dad with her at home.
Family/Hobbies/Interests
My son Cliff is attending Indiana University and daughter Megan is interested in Purdue University, a potential house divided. I enjoy cycling, golf, movies, photography, working around the house, outdoor activities, and spending time with friend and family.
Education/Awards
Lawrenceburg High School, Class of 1981

Ball State, Class of 1995 – Bachelor in Fine Arts – Photography

Good Samaritan Nursing – RN 1995