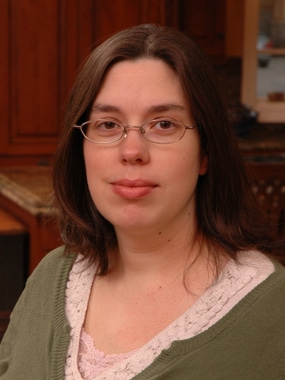 Janis Hurst
Graphic Designer/Marketing Assistant
My Role at Neal's
I work primarily behind the scenes on many of the marketing and online projects that help Neal's keep in touch with our clients and prospects. In addition to maintaining our mailing list and email database, I design many of Neal's print materials and publications, such as the twice-yearly Homefront magazine.

Favorite Project
Since I work very closely with Neal's photo portfolio, I know most jobs by their "after" results more than the stories behind them. I particularly enjoy the finished product of the Eclectic Traditional Kitchen.
Family/Hobbies/Interests
I live in Mount Orab, Ohio, with my husband and four children, as well as my mother. In our spare time, we are involved with an international, non-profit organization that focuses on re-creating the Middle Ages which provides me with other hobbies, including period costume making, embroidery, and medieval-style camping.
Education/Awards
Wyoming Seminary College Preparatory School (Kingston, PA), Class of 1998

Arcadia University, Class of 2002, BFA Graphic Design