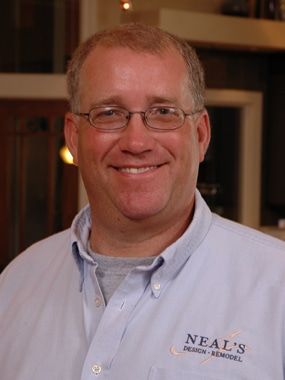 "Kevin made sure the job ran smoothly and kept on schedule. He always strove to "keep the customer happy". He stopped by everyday and returned all calls in a more than timely manner. When unexpected situations arose, Kevin was able to address the issues with efficient solutions. He had an attentive ear-listening to our ideas, to our concerns-and then was able to produce the product of our dreams."
–Toni & John, Blue Ash, Ohio
Kevin Dunn
Production Manager
My Role at Neal's
As a project manager, I rely on my experience growing up in a family of carpenters including my grandfather, father, and uncle. Now I get to work with my son Jansen here at Neal's. My passion for construction started early going to work with Dad, operating Tonka trucks & bulldozers. My role is to keep your project on time and make sure the entire team is informed of the schedule, labor, and materials required to make it a success. Each project is truly unique and that makes my job very rewarding.
Favorite Project
The Lower Level Entertainment Space and Outdoor Living Entertainment Retreat were great projects I was lucky enough to build. Such nice clients and the stonework, bars, and fireplaces make great entertaining spaces.
Family/Hobbies/Interests
Kevin and his wife Kim live in Mt. Orab and have three children Jantsen, Zack, & Maycee.
Education/Awards
Western Brown High School, Class of 1977