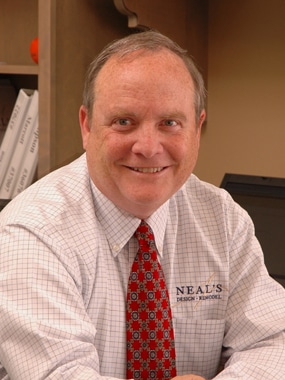 "Neal was precise in quotes, and guided us through the budgeting process. He was professional; he was encouraging in helping us to see a vision."
–Toni & John, Blue Ash, Ohio
Neal R. Hendy
President
My Role at Neal's
As one of the family owners and President of Neal's Design-Remodel one of my cherished responsibilities is to continue our tradition of designing and building wonderful design solutions that solve lifestyle problems within our client's homes. To continue our quality craftsmanship not just "On-Time and On-Budget" but to deliver them with our family values of integrity, security and care.
Favorite Project
Having grown up in this family business, and Neal's now entering into our 40th year, I have been involved with so many unique spaces and projects that I find it difficult to choose. Maybe that is why I enjoy this career so much and find it so easy to get up early and head into the office. As a parent it's fun to hear your children say, as you drive through a neighborhood, "I remember Neal's doing that remodeling!" It's even more gratifying, after they worked many summers here at Neal's, and finished their college degrees, to hear one of them say, "Hey Dad this is fun! I'd like to give this a go with you and your brothers!"
Family/Hobbies/Interests
Justine and I have two sons and a daughter. Spring 2012 is big for us with our "caboose" graduating from IU and our eldest son and his wife, who live in Chicago, expecting our first grandchild in May. We enjoy American History and hiking trails within our National Parks. We are well on our way to meeting our college goal of hiking within all of the National Parks. Over the last number of years I have enjoyed riding my bicycle out in the farmlands of Ohio and Indiana. I was excited to see this year that I traveled over 3,300 miles before the Winter weather arrived.
Education/Awards
Elder High School

Xavier University

First Cincinnati area contractor awarded NARI Certified Remodeler

One of the first Master Certified Remodelers in the USA

NARI & NAHB member for over 35 years

Board Member of the Cincinnati BBB