"What's possible and what do I like?"
Remodeling ideas come to us in a variety of ways. Without a system in place to capture, store and annotate them, when it comes time to talk to a designer about what we want, we can feel underprepared. While it's true that your kitchen designer can bring many idea and style suggestions to the table, they can do a better and more efficient job when they can get a sense from you about what's caught your eye and what might exist in your vision for your kitchen.
Where to Find Ideas
There are plenty of places you could go to find ideas for a kitchen remodel. We'll list some ideas here for you, but ultimately when you're in the mode of thinking about changing your kitchen, stay open for ideas to find you. Something as simple as a shop display or a glimpse of something on TV can inspire ideas for your new space. If you're looking for specific places to go, though, we can point you to a few resources.
Neal's 1000+ Design Ideas Gallery
With more than 40 years of remodeling work behind us, Neal's has a vast library of useful images and ideas for all types of home remodeling projects. We keep our newest and best in a collection of slideshow galleries that you can browse. You can get access to the free 1000+ Design Ideas here.
Houzz
Houzz is designed for home remodeling ideas. Think of it as a collective home design portfolio gallery of real projects created by home design and construction professionals from all over the world. With a few simple search terms, you can find and collect remodeling ideas in several different categories. Houzz also has an active community, so you can ask questions and get advice from other homeowners as well as professionals.
Pinterest
Pinterest is a fantastic resource for finding remodeling ideas.  Images are added to the site by other users, and the site is highly searchable. When you begin to find and save remodeling ideas, the site will automatically start suggesting other ideas for you, making it incredibly easy to locate many ideas in just one session.
Home Design Blogs
You can locate bloggers talking about kitchen design through Pinterest or with an internet search. Many design bloggers are actual people doing real remodels, which is a fantastic opportunity for you to see the ups and downs of remodeling. These sites are great resources for ideas because the images and projects they share are most often current and on trend, showing you what's possible in home design in this modern era. When you locate some blogs that you like, use a blog reading service like Bloglovin' or Feedly to save them for easy reference and to get suggestions for more blogs you might find useful.
Kitchen Product Manufacturers
Whether you visit a website or go to a showroom to see them, looking at the actual products available for your kitchen can really open your eyes to possibilities. If you haven't gone to look for tile, faucets, flooring, or appliances in the past several years, you may be shocked to find the plethora of options out there now. This can become somewhat overwhelming, however, so if you go out looking at specific products, try to have some basic criteria in mind.
Design and Remodeling Shows
You can turn to television stations like HGTV or DIY Network, or scope out shows through streaming services or YouTube. Some of the most popular design ideas come from these sources, and many design shows can provide a glimpse into what goes into certain types of remodeling projects.
Home Design Magazines
If you're more inclined to pick up a magazine than go online, there are many publications that can provide remodeling ideas. There are both national and local magazines for home remodeling, and we recommend checking both out. It can be useful to see and read about projects that happen in your own city or region since style preference and trends tend to exist in geographic pockets. Housetrends magazine has a Cincinnati area quarterly issue. National magazines, such as House Beautiful, Dwell, Architectural Digest, and Country Living, will provide you with ideas for specific products and show you a wider variety of projects and styles.
Design Showrooms or Expos
If you want to see a lot of ideas all at once, visiting a design showroom or attending a home remodeling expo is a field trip worth taking. Showrooms like Neal's are designed with actual products in vignettes to help homeowners see options. You can see cabinetry styles, hardware varieties, counter materials, and tile installations. You can also take advantage of the showroom staff to help you with ideas or to answer questions you may have.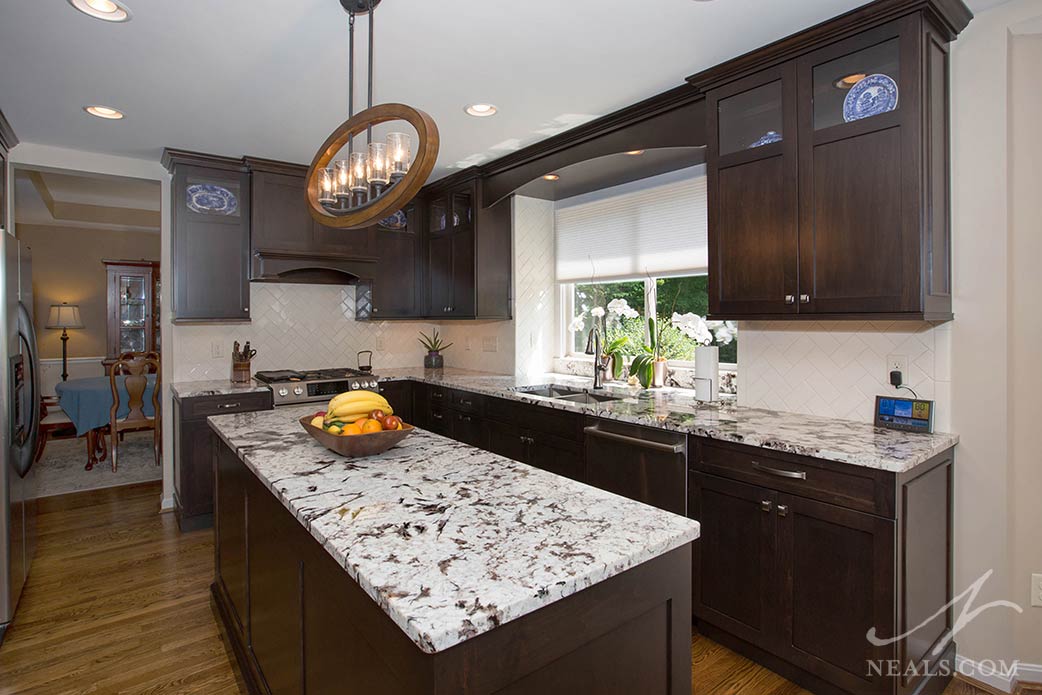 Kitchen in Loveland, OH.
Collecting ideas
It's useful to have a few different methods of collecting ideas for easy reference later. We recommend a combination of online and offline methods.
Sites like Houzz and Pinterest come with built-in tools for saving ideas (in fact, that's what Pinterest is all about), so if you are using those sites, be sure to take full advantage of their Ideabook (Houzz) and Board (Pinterest) utilities. As you save ideas, make notes in the descriptions about why you are saving the idea. You can also share these collections with your designer so you both can add and edit ideas for even more collaboration.
You may also like using note-taking, cloud-based options like Evernote that allow you to save text, images, and links into virtual notebooks. You can use searches and tags to find the things you've saved. This is a handy tool also because there are mobile apps available. If you find ideas offline, you can snap pictures with your phone and add them into your idea notebook in Evernote. When you return home and sync up to the cloud, that note will be waiting for on your computer.
Sometimes you aren't able to use Internet-based tools to store your ideas, either because they come from magazines or TV shows, or because you just don't have online access. For those times, it's helpful to have a physical way to store ideas. A binder or folder will work for pages you tear out of magazines. You might also just want to keep a regular notebook to jot ideas down.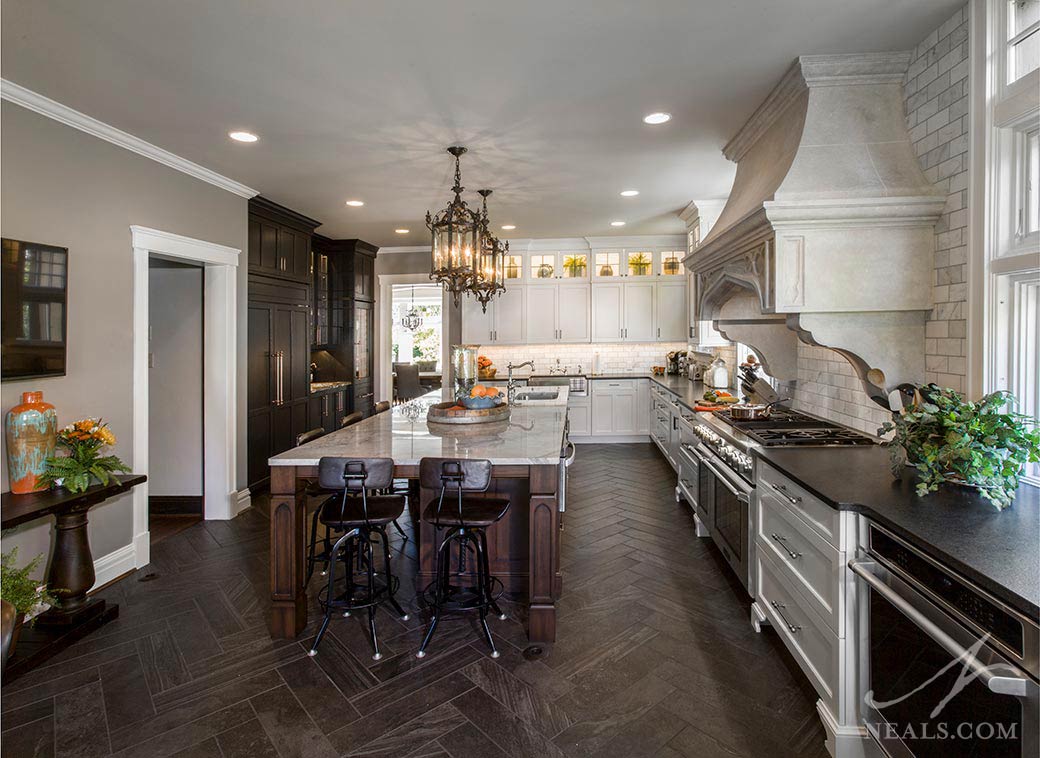 Kitchen in Hyde Park inspired by the Gothic Revival style.
Finding Your Design Style
You may or may not already have an idea of what your home design style is. If you do, that's a great box to check off in the planning process. If you don't, taking a little time to narrow your style preferences down will be a useful thing when it comes time for you to meet with a kitchen designer. If you can go into the conversation with your ideas and say with some confidence what styles you like and want, it will vastly improve how quickly your designer can help find the products and layouts that work for you.
One caveat we do have is to not be too quick to put yourself into a single style bucket. Style labels are perfect for shorthand conversations that get you in the right direction (and we'll quickly go over the big three in a moment), but if you aren't also keeping in mind your personal character, the style choices that make your family unique, and the preferences you have for how your home feels, then by trying to shoehorn yourself into one style only, you could be missing the opportunity to make your kitchen truly yours.
There are a few ways you can figure out your design style, but the easiest method will be to take a look at your collection of ideas and look for similarities. Note the feelings or moods they convey, along with any colors or details that show up often. It will probably read something like, "sophisticated, rich woods, glittering glass, and yellow", or whatever combination of words make sense for what you gravitate toward.
With these descriptors in mind, you can now see if any of the three primary design styles are the way you lean to help bring your style into a cohesive total look. The three styles are Traditional, Contemporary, and Transitional.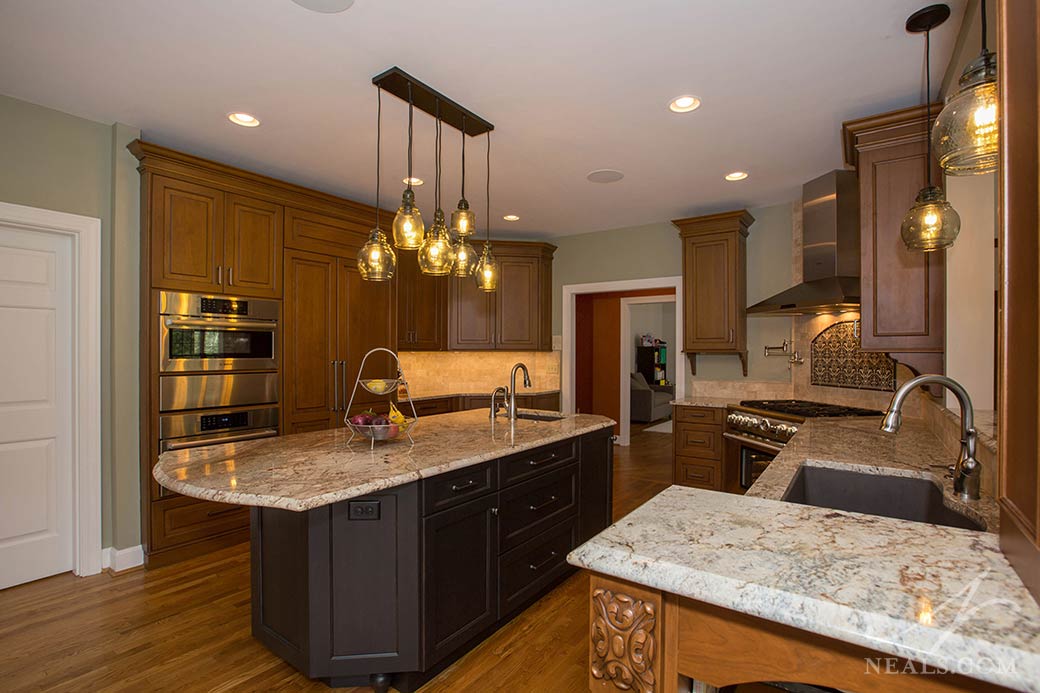 Traditional kitchen Western Hills.
Traditional design uses intricate details, soft textures and warm materials. It is inspired by historical styles including European or "old-world", colonial, Victorian, and 19th Century architecture and interiors. Highly decorative, with an emphasis on deep tones and luxurious details, traditional design conveys a feeling of grandeur, age, and refinement.
Contemporary kitchen in Oakley.
Contemporary design features minimal details, an emphasis on materials, and angular lines. This style movement began in the 50's and came into popular use in the 70's. Contemporary spaces are generally uncluttered and open, have some unexpected features and a curated mix of materials, textures, and colors to create interest.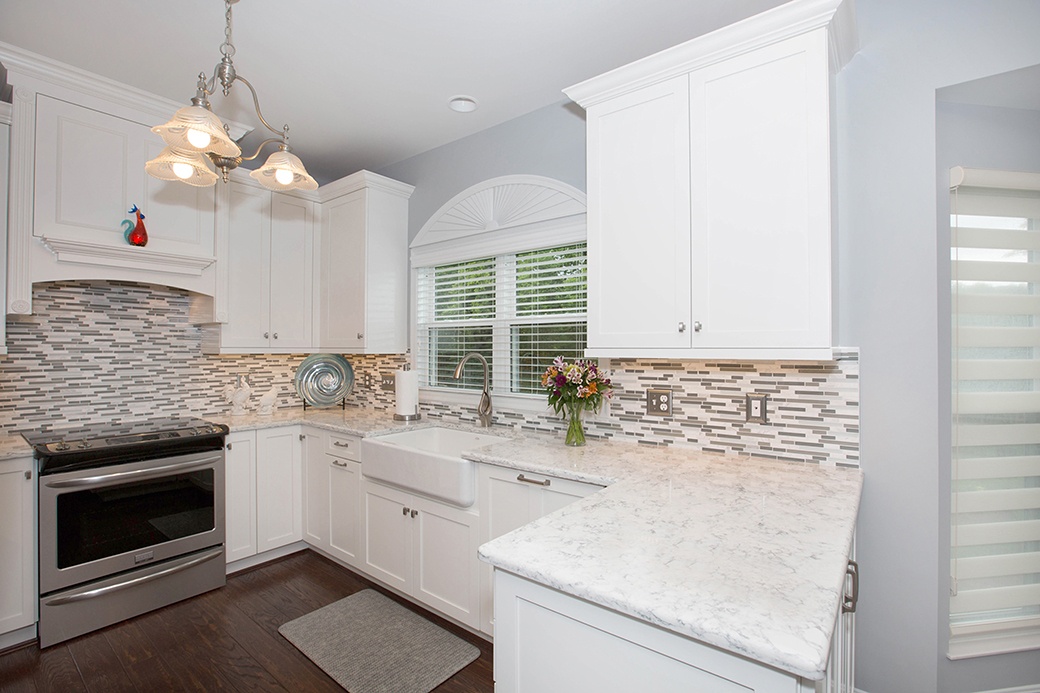 Transitional kitchen in West Chester, OH.
Transitional design, in general, falls between traditional and contemporary. It's hard to say exactly what elements can be found in transitional spaces because it may lean more traditional or more contemporary. A transitional space will favor contemporary lines and unexpected materials while also showcasing details and the refined notes of traditional design.
There are other styles as well that can fall inside or in between these three primary styles. Of these more specific style genres, in the Greater Cincinnati area, we see Craftsman (transitional), Farmhouse (traditional), and Asian-inspired (contemporary) designs the most often.
If you aren't sure what descriptors fit your style, try creating what's known as a mood board. This is a collage-type board (it doesn't matter how big or small it is) where you can put together the ideas you like the most, along with words or other inspiring images that aren't specifically home-related, to help your designer get a sense for what you're interested in and what appeals to you by finding the common themes among all your mood board pictures.
One last note here. It's possible to enter a remodel without any ideas and a willingness to just allow your kitchen designer to guide you through trends, styles, ideas, etc. to find your unique style and design. If that sounds appealing to you, be prepared to go through several style iterations and allow for additional time in the design phase of your remodel.